Eastern Newfoundland: A Road-Tripper's Guide
Many tourists book their tickets to St. John's or Deer Lake or Gander, and then announce that they've set aside a week to "see Newfoundland." Newfoundland is physically a very large province. If you drove from one side to the other, without stopping, you could be driving for about 12 hours. And that wouldn't be much fun because there is loads to see in the middle of the province, making it tempting to stop frequently – and so you should!
That being said, there are plenty of things to do and see in seven days, and if you divide up the province, they can even be done well. This itinerary will cover the easternmost side of Newfoundland to get a taste for the cosmopolitan city life, as well as the small-town, quaint bits.
St. John's
Fly into St. John's International Airport, located about 20 minutes from downtown. If you're lucky, the pilot will take you the scenic route, coming in over the ocean and the cliffs. Spend at least three nights in the city, if you can, to have enough time to see the sights, particularly if hiking is part of your plans. Take in various outdoor activities, including Signal Hill (from the Battery walk, and via the road) and Quidi Vidi Lake. Watch the sunrise from Cape Spear, the easternmost point in Canada, or coming in the fall to see the leaves at Rennie's River Trail and Bowering Park.
Have brunch at one of the many restaurants on on Water Street- either traditional fish and chips, or higher end fare is available. The chip truck – Ziggy's – parked near Atlantic Place is always a good choice. Pick up souvenirs and local goods in the independent shops on Duckworth Street, and take in a show at LSPU Hall or at the Arts and Culture Centre. Dinner at any of the other many restaurants downtown will leave you satisfied with local flavours and products, many of which are sourced directly from the producers, farmers, and fishers. Post-pandemic many restaurants have changed hands and started fresh, but there should be no shortage of options, from local cuisine to international dishes.
Visit The Rooms museum for Newfoundland history and ideal views of the Narrows, and the Craft Council on Duckworth for locally, and lovingly, made arts and crafts. Visit one of the many historical churches in downtown St. John's, and get your picture taken in front of the jellybean-coloured row houses (just head up from Duckworth, away from the harbour, toward Gower Street, King's Road, or others). And if boats agree with you (they don't with me) by all means head down to the harbour and take one of the highly thought of tours to see icebergs, whales, and various other oceanic sights. Let me know how it is – I'll be on land with a coffee or a drink (at The Rocket or Bannerman Brewing).
Spend a day touring the Avalon Peninsula. From St. John's, you are minutes from Middle Cove, Outer Cove, and Topsail Beach. Various East Coast Trail starting points dot the peninsula and even without a car the taxis and day tours will take you to the highlights.
Trinity
Drive less than three hours from the city to reach Trinity, a small village on the water full of historical buildings. You'll want at least two nights, to accommodate both day trips and the various activities in town. The main highlight of Trinity is Rising Tide Theatre Festival, a summer festival of Newfoundland classics and historical pieces, featuring a majority of Newfoundland actors. Spend a day at the Festival to take in the Pageant – a roving theatrical production outlining the history of Trinity and the surrounding area – the dinner theatre, and a main stage production in the evening. If you wish to meet the actors, or locals, they can most likely be found at the pub – you'll find it. Trinity Coffee Company is roasting small batch coffee in a very small town, and you'll want to pick one up before heading off on the Skerwink Trail, near Port Rexton, an award-winning hike with spectacular views of the ocean, cliffs, wildlife and sea stacks.
Accommodations in and around Trinity are lovely, and limited – so book early, particularly if you're traveling in August and September. Stay right in Trinity at the Artisan Inn, or at Fisher's Loft in Port Rexton, just a few minutes down the road from town.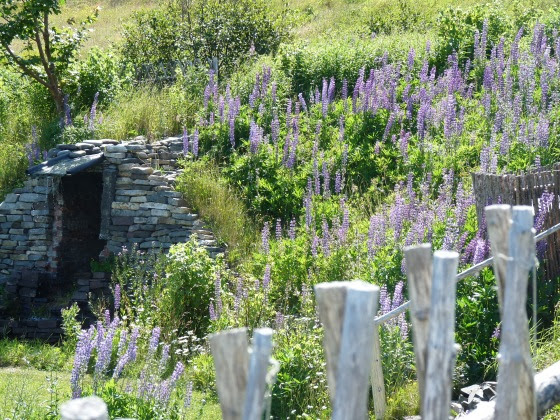 Port Union
Just under 30 minutes from Trinity, this historical town plays an interesting and important role in Newfoundland's past, and the Fisherman's Protective Union. The entire town appears locked in the early 1900's. Tour the Port Union factory building and see the printing press, as well as archived pieces and historical tools and household items in the museum. The surrounding area is picturesque and worth visiting once you have explored the town itself.
Elliston
Another 20 minutes or so from Port Union is Elliston – home of the puffins. One of the highlights of Newfoundland is wildlife. If you didn't get a chance to see any puffins on your boat tour in St. John's or Trinity, don't miss a stop at Elliston. Bring your own binoculars, or, once you've parked your car on the side of the road, borrow a pair. You will be able to see the puffins – birds smaller than you might imagine – on the adjacent rock. Bring a blanket, or sit in the grass and enjoy the view. Stay all day if you wish – it's not remotely corporate, and no one will ask you to leave.
Bonavista
Bonavista is day-tripping distance from Trinity (less than an hour by car), or another spot worth spending a night, depending on your schedule. First on the agenda is a tour of the Matthew, a replica of John Cabot's ship, appropriately located at his first landing place. From Cape Bonavista Lighthouse Provincial Historic Site, you may be able to spot an iceberg, and you'll get a taste of Newfoundland history in the quaint downtown.
Take in the cliffs, the fishing boats, and the rugged coastline, before heading twenty minutes down the coast in the direction of Newman's Cove to Bonavista Social Club at Amherst's Cove for lunch (open during the summer, only). The self-sufficient restaurant produces and grows their own products for breads, soups, salads, and pizzas. You could even do the loop in one day from Trinity, to Port Union, Elliston, Bonavista, and back to Trinity in time for dinner.
Even more?
If you manage to cover this segment of Newfoundland in a week, you'll have been very successful (and potentially overwhelmed). But, if you still want more, carry on west to Gander (now famous for its starring role in the Broadway musical Come From Away), Fogo Island, Twillingate, and Terra Nova National Park. I would recommend taking as much time as you possibly can free up to see as much of the province as possible. Nothing you see will be remotely close to mediocre, and may even make you question your eyesight. Seeing that many cool things in a week can have that effect.